Use these "members only" pages to
Forms and Instructions
Gallery Shop Inventory form: PDF or DOC
Gallery Intake Form: PDF or DOC
Expense Reimbursement form: Expense_Report.pdf
Artist Agreement - Updated February, 2018: Click Here
Volunteer Sign Up!


Click the orange sign up button below and choose the day and time you wish to volunteer. Add your name, and email to the form, then submit, and you're done!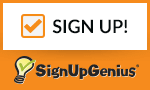 Gallery hours are Saturday and Sunday Noon until 5:00 PM
Please choose a shift that you know you can commit to for the entire 3 hour slot.
3+ Hours per month is required for artist members to display work in the gallery.
There are three 3-hour shifts each day.
Helpful hints...
If you're new to volunteering we recommend signing up in the first or second slot where another volunteer can help you get familiar with being in the gallery as a volunteer.

If you are not comfortable being in the gallery alone you might not wish to sign up for shift three where you will close and lock the gallery alone.
If you have any issues starting out with the signup, please refer to this FAQ first:
http://www.signupgenius.com/pdfs/signing-up-is-easy.pdf
If you are still having trouble please feel free to email gallery@salemarts.org